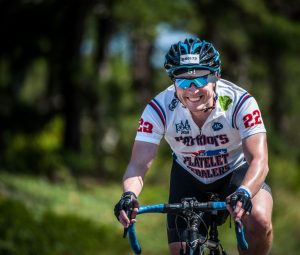 On August 1st and 2nd 2020, I will be cycling in my sixteenth Pan-Massachusetts Challenge, a two day, 192 mile bicycle ride from Sturbridge to Provincetown, MA. Over 6,000 cyclists will be riding with a goal to raise $63 million dollars — 100% of which will be donated to the Jimmy Fund, a fundraising arm of the Dana-Farber Cancer Institute in Boston.
The Pan-Mass Challenge exists because we– the riders, the volunteers, the supporters– want to live in a world without cancer. Until we can have that, we want to support the groundbreaking research championed by the Dana-Farber Cancer Institute. Cancer is an extremely complicated beast, and we don't have cures for many types of cancer — yet.
For the eighth year I am riding with over 130 others as part of the Patriots Platelet Pedalers team. The funds raised by myself and my team are earmarked for Dr. Ken Anderson, the Kraft Family Professor of Medicine at Harvard Medical School and Dana-Farber Cancer Institute, to support his multiple myeloma research and development of novel therapies.
My personal goal this year is to raise at least $8,000, and I need your help to get there.  Every cent you donate — 100% — will go to the Jimmy Fund. Thanks to your generous support, I've raised over $82,000 over the last fifteen years.
Thank you so much for your support!
Steve Bernacki